Traditional Balinese Dishes You Must Try
The traditional dishes of Bali are a huge part of the culture in Indonesia as most of them date back centuries ago, almost as old as the culture itself. Here are Bali's local cuisines if you want to experience the diverse culture of the city. 
Sate Lilit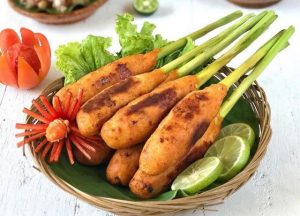 Bali is known for its grilled meat dish, Sate Lilit. The word "lilit" roughly means "wrap around" wherein the meat is usually wrapped around the skewers. Traditionally, lemongrass stalks are used as skewers instead of bamboo skewers served with satay sauce made of fresh peanut – a must for any true satay fan. The Sate Lilit recipes are dated centuries back and are one of the best-known staples in the city. In Bali, it has been handed down through generations and has become a staple food, too. Indulge in The Writers Bar, one of the Raffles restaurant's indigenous tapas "Sate Lilit Ikan" from the island-fresh produce of Jimbaran village. 
Babi Guling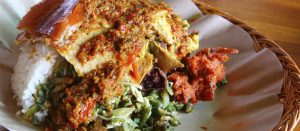 In Indonesia, a suckling pig is commonly known as Babi Guling. It is one of Bali's most famed dishes. The pig is stuffed and infused with a spicy concoction typically including turmeric, coriander seeds, lemongrass, black pepper, and garlic, and traditionally spit-roasted. Pork is then placed on a spit and roasted over an open fire. This Balinese delicacy is usually served during special occasions and formal gatherings, but can often be found in warungs, traditional Indonesian casual eateries. The dish is so popular in Bali that most warungs specialize and serve only Babi Guling as their signature dish.  
Rumari at Raffles Bali creates a rendition of the old-time favorite Babi Guling. You can find it on the Rumari Discovery menu with slow-roasted organic heritage pork from the great partnership with "Black Heritage Pig Farm", the only self-sustainable, organic Farm in Bali located in Baturiti. The dish is commonly combined with urab pakis salad and aromatic fragrant jus.  
Ayam Betutu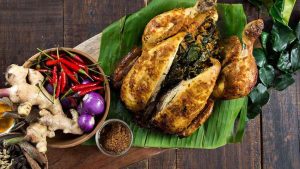 A Balinese dish, Betutu is a combination of chicken steamed or roasted in a rich curry sauce. It is a popular dish in Bali, Indonesia, due to its high spice and seasoning content – a signature taste of Bali cuisine and a favorite of both locals and tourists. An even spicier version can be made with uncooked onion slices mixed with red chili peppers and coconut oil, making it a must-try for tourists in Bali. 
Tipat Blayag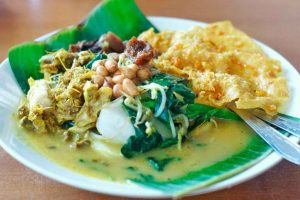 Tipat Blayag originated in Penglatan Village, Buleleng Regency. It was seldom prepared to entertain guests who visited the village in ancient times as a traditional dish, but today, it is often hunted by tourists looking for its unique food taste. 
This dish's ingredients consist of ketupat or tipat in Balinese, vegetables, grated coconut, soybeans, shredded chicken, fried chicken feet, chili sauce, and chicken skin crackers. It can easily be found in North Bali. Savor one of Rumari's favorite Tipat Blayag during breakfast at Raffles Bali. 
Experience these Dishes at Rumari and The Writers Bar, Raffles Bali  
If you are looking for a place to experience these traditional dishes, you may visit Rumari and The Writer's Bar. Besides the good food, you can also enjoy the serene environment provided by the community while you enjoy all the best services Bali has to offer. 
If you are looking for South East Asian including traditional Balinese and Indonesian cuisine, Rumari offers the most authentic dishes with sustainable ingredients presented in European flair.  
On the other hand, you can also go to The Writers Bar Bali which is located at the pinnacle of the Raffles Bali resort. It is an ideal spot for sundowners looking for the best-overlooking view of the bay while drinking Champagne and cocktails until late. 
To visit Rumari and The Writers Bar, visit Raffles Bali, one of the best hotels in Jimbaran, Bali.