Suite Life: Everything you need at Raffles Bali is at your fingertips by The Straits Times
BALI – When you stay at Raffles Bali, which opened in the Indonesian island's Jimbaran Bay in 2020, your welcome starts well before you step into the resort.
That is because every villa in the luxury resort, the latest in the home-grown Raffles brand, is assigned a butler whose job is to cater to all your requests during your stay.
My Raffles Wellbeing Butler is Ms Ariyanti, who sends me a welcome e-mail the moment my room is confirmed, introducing herself and asking if I need any special arrangements and if I want to make reservations at the restaurants and spa.
That in itself is not unusual because most premium hotels these days would send you a similar e-mail. Except that you usually never actually meet the person who contacted you. And you still need to consult the concierge in the lobby for services that cannot be settled over the phone.
But Ms Ariyanti is not only at the entrance to meet me when I arrive at the resort, but she is also with me throughout my two-night stay – acting as my resort guide, buggy driver and overall assistant.
The first WhatsApp text from her arrives the day before my flight to Bali, so when I touch down at the airport, I can confirm with just a quick text of my own that the resort's driver is already waiting to pick me up.
Everything I need is at my fingertips – delivered subtly and with as little intrusion as possible.
That seamless service extends even outside the resort when my suggestion to walk from one restaurant to check out another is quickly vetoed by my driver. "It's too hot to walk," he says. "Just text Ariyanti and I'll come to fetch you."
And he did. Granted, the resort is just a 10-minute drive from those restaurants but, for me, that is beyond the call of duty.
My stay at Raffles Bali is memorable in many other ways too.
Like many luxury resorts on the island, there are only villas here that are furnished like suites. The rooms come in calming hues of wood and fabric, with views of the private garden and the pool outside.
Each is equipped with its own swimming pool and tanning bed on an outdoor terrace as well as a shaded daybed in a gazebo.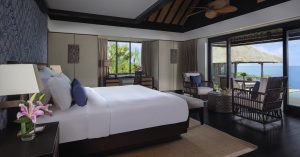 That leaves you with seemingly little reason to venture out other than for meals, even though there is a main pool by the beach for guests who want a change of scenery.
But with only 32 villas in the resort, which straddles a staggering 8ha of land, chances are, you will not see many other guests during your stay.
I certainly do not, and it is not like I am hiding away in my villa. I am planning to check out as many of the resort's activities as I can fit into my stay.
First on my itinerary is a guided botanical tour of the resort. While it does not cover all 8ha of the resort, it is a good way to see part of the expansive grounds.
There is a herb garden that includes a stingless bee hive where the honey is harvested only after the insects abandon it for a new home.
You do not need to be a botany expert to recognise the names of plants scattered around the area, such as moringa and cashew, though that is the first time I get to see what the trees look like.
But I easily identify the Traveller's Palm at the driveway entrance as that is the logo for the Raffles hotel brand. Many of the trees that originally grew there are also retained, albeit in a more manicured landscape.
I also plan a morning meditation session the next day, but when I wake up, it is drizzling. However, a quick text to Ms Ariyanti confirms that it is still on and a buggy arrives at my villa on the dot to transport me to The Secret Cave location.
It turns out to be an actual cave, hidden on a hill slope that is accessed by a flight of wooden stairs. Despite the wet weather, my buggy driver leads me there, sheltered under an umbrella, with little difficulty.
There, my instructor Komand, a local young man from Jimbaran, takes me through an hour of meditation that is so relaxing, I am glad that I did take the effort to wake up early.
I learn some stretches and breathing exercises and how to clear my mind of distractions as Komand gives his instructions in a mellifluous voice, sometimes breaking into a chant aided by a singing bowl. It is the best way I can think of to start the day.
The second best way is, of course, breakfast at the Rumari restaurant, where some of the best croissants I have eaten await me. It is a la carte, but servings are kept small so that guests can sample multiple items.
I have a delicious lobster omelette served in a rock lobster bisque, then decide to go local with a soto ayam kudus and tipat blayag ungasan, which is rice cake served with braised organic pork leg and long beans.
Rumari transforms into a fine-dining restaurant in the evening and my nine-course menu is a marvellous modern interpretation of Indonesian cuisine by chef Gaetan Biesuz.
Equally impressive is that the restaurant has a commitment to source at least 80 per cent of its ingredients locally. The set dinners range from 1,150,000 rupiah (S$101) for five courses to 1,750,000 rupiah for nine courses.
Chef Biesuz also collaborates with other chefs on four-hands menus under the Rumari And Friends programme, and on my last night at Raffles Bali, chef Aitor Jeronimo Orive from Singapore's Basque Kitchen by Aitor is in the kitchen. So even though I have dined at the same restaurant on consecutive nights, I have two very different experiences.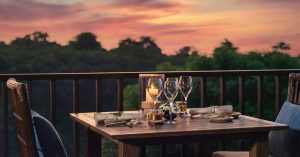 For a casual lunch, the casual Loloan Beach Bar and Grill on the waterfront offers an a la carte menu of artisanal pizzas and seafood.
But there are other dining venues that can be set up on request for small groups.
These include The Farm Terrace (from 12,800,000 rupiah for four persons), which offers a dinner for up to six guests with a curated menu of organic vegetables, cold cuts and meats set in a garden.
Or have a table set up on the highest rock on the resort's beach and enjoy the Purnama Honeymoon Bale's seafood menu (from 6,000,000 rupiah a couple) to the sound of waves in the evening.
And The Secret Cave can be turned into a romantic dinner venue (from 7,000,000 rupiah a couple), where sandalwood scents and music accompany a dinner using seasonal ingredients that are sourced locally.
Each is magical in its own way and reserved only for guests.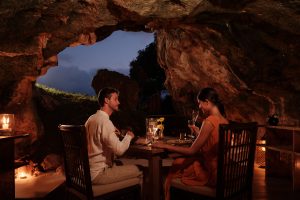 There are also plenty of dining options just outside the resort. Jimbaran is a well-known fishing village and the area boasts many local grilled seafood restaurants, as well as those serving international cuisines ranging from Indian to Italian.
For me, a resort holiday is not complete without a visit to the spa. But make sure you make an appointment at The Sanctuary, preferably before you arrive, because the spa treatments are usually fully booked.
My one-hour massage, which is preceded by a foot detox on a balcony overlooking a verdant landcape, is so relaxing that I wish it can go on forever.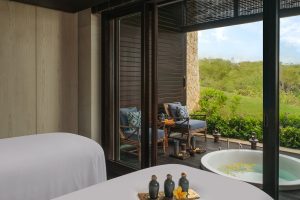 But all good things must come to an end and so does my stay. Check-out is just as stress-free as all I have to do is pass Ms Ariyanti the villa key when she arrives with the buggy to take me to the main lobby, where my drive to the airport is waiting.
And just as she is the first to greet me on arrival, her smiling face is the last I see, waving a cheery goodbye as the car pulls out of the driveway.
Tip: If you plan to visit one of the restaurants in Jimbaran for lunch, try to leave a little earlier and visit the fish market, which is along Jimbaran Bay beach. The market is one of the busiest in Bali and many restaurateurs come here to get their seafood.
Tourists can buy what they fancy and get it cooked at the stalls and eateries nearby for a fee. But even if you do not buy anything, it is an interesting way to sample local life.
For more information please visit The Straits Times