Five Things You Can Do in Jimbaran Bali
The Jimbaran Bali area is famed for its white sand beaches, sunsets, and grilled seafood dinners by the beach. In addition to these fantastic favors, you can also enjoy plenty of activities that will feed your Balinese soul. Today, let's explore what they are so you can include them on your next Bali visit. 
Jukung Boat Ride Upon Sunset
You should never miss the Jukung boat ride at sunset. A jukung or kano is an Indonesian outrigger made of wood. It is a kind of canoe that can be used as a fishing boat or a vehicle for small groups of SCUBA divers. 
These boats are remnants of old Bali, with hand-painted colorful jukung boats along the shore. Jukung boats can carry a handful of people – an intimate activity where you can get to know other tourists visiting Bali. You can also witness all the hip bars and restaurants along the coast and find that there are still little secret coves and undiscovered areas that the developers haven't built yet. Its dramatic sunset will let you appreciate the magnificent hills known in Bali. 
Raffles Bali offers Jimbaran Sunset Cruise as one of the well-traveled connoisseur's activities. Enjoy an afternoon journey – a scenic two-hour ride along the coast of the Indian Ocean, bask in the magnificent last rays of the sunset while marveling at the sight of Jimbaran Bay beach. 
Dining by the beach at Loloan Beach Bar and Grill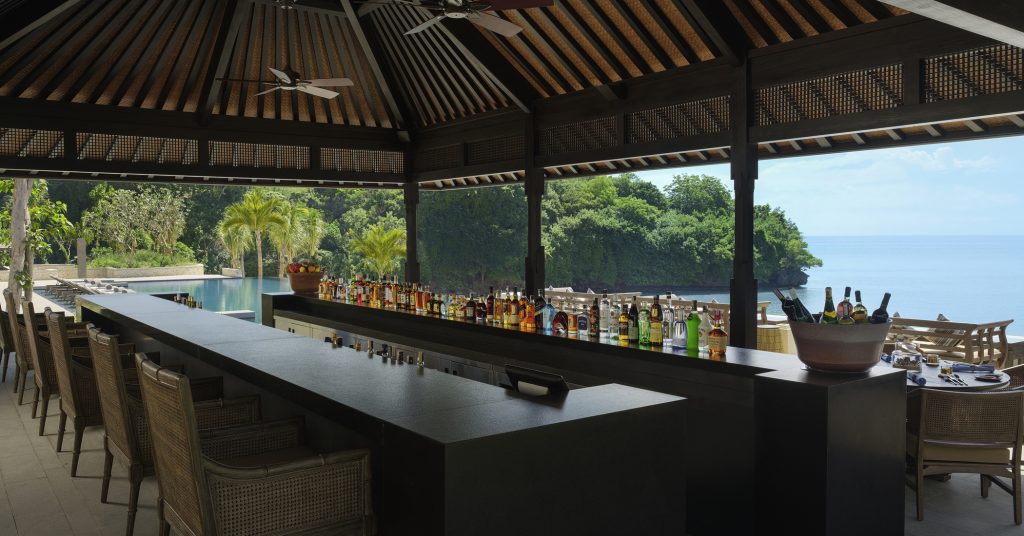 If you're looking for the best dining experience with your family or partner, Loloan Beach Bar and Grill is the best place to go. This unique restaurant is located on a secluded beach, overlooking a 25-meter infinity pool offering a sumptuous seafood feast and premium meat selections beneath the shade of authentic Balinese-style ceilings. 
This place also provides well-traveled connoisseurs with ultimate seclusion for family and friends gatherings. Tourists can experience a shift in the atmosphere as twilight falls from laid-back fun to casual elegance. Loloan Beach Bar and Grill is exclusively for Raffles Bali's in-house guests only. 
Uluwatu Temple Visit and Kecak Dance  
One of Bali's nine key directional temples, Uluwatu Temple, is perched 70 meters above sea level on the side of a cliff and is one of the most spectacular temples on the entire island. 
According to inscriptions, Mpu Kunturan established Uluwatu Temple about 1,000 years ago, along with several other important temples in Bali, such as Pura Sakenan in Denpasar. A black roof built from palm fronds surrounds Uluwatu Temple, giving it a unique architectural style. The amazing location, precariously between heaven and earth, makes it the most impressive thing anyone can see.  
Nearby Uluwatu Temple is the famous Kecak dance performance which sees bare-chested dancers who relate the Hindu epic story of Rama and Shinta against a spectacular sunset backdrop. A reserved front row seats allow you to watch in absolute comfort as the dancers move in concentric circles, chanting as one to create a mesmerizing wall of human sound. Experience Raffles Bali's unique cultural journeys and enriches your Balinese soul by giving you an insider's perspective on island life. 
Balinese House Visit  
One of the best places to visit in Bali is the Traditional Balinese House Compound, which is located in Jimbaran Village — a 5-minute drive away from Raffles Bali. Most buildings here are designed using Balinese architecture, highlighting Balinese lifestyle concepts. The house-building concept consists of several buildings with different functions and activities. Each of the important structures within the Balinese family compound is carefully laid out and surrounded by a rectangular perimeter wall. In Balinese culture, the family compound is compared to the human body, so the first step is to consult a Balinese calendar before buying land and starting construction. 
Embark on a cultural exploration journey and marvel at the sight of a stunning Balinese traditional house during your cultural activity at Raffles Bali. It includes making Balinese offerings and enjoying traditional Balinese sweets during the house visit. Learn the immaculate concept of Asta Kosala Kosali where each and every compound constructed has profound meaning and values. 
Sunrise Stroll at Raffles Bali Secluded Beach 
Travelers worldwide will find a sense of well-being and serenity at Raffles Bali, the brand's 15th hotel in the world and one of the best hotels in Jimbaran Bali. Its perfect location makes this Balinese establishment ideal for those flying into Ngurah Rai. This ultra-luxury resort can only be reached by a winding, majestic road that winds through lush tropical nature and shields it from the outside world. 
In addition to enjoying every living space in complete privacy and relaxing in the Raffles spa, guests can experience unforgettable moments from sunrise to sunset. 
If you want to visit Raffles Bali or know more about it, feel free to contact us below, and we will be happy to answer you.  
Email: bali@raffles.com  
WhatsApp: +62 851-7110-9559.​​​​​​​ 
Phone : (0361) 2015800